CATALOG NO. B95-2019
Paradise Lost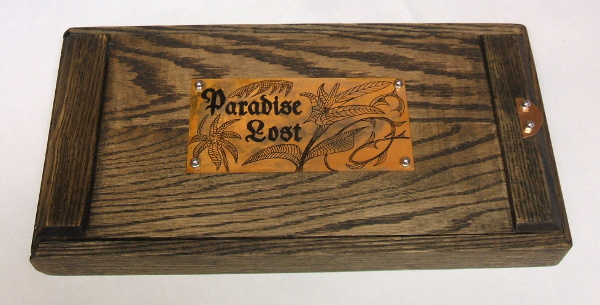 Paradise Lost closed


Paradise Lost open

Specifications - Unique Book
Original ink drawing on 20 sheets of handmade paper, each sheet 7" x 14.75" accordion bound, extends to 295 inches.
Paper - Twinrocker Da Vinci Heavy Text.
Custom wood container with copper nameplate 8.5" x 16.25" x 2".
Original music composition was composed, performed and recorded by the artist.
Paradise Lost is a wordless narrative with original music that explores variations of loss in America, over time and in the present. Starting with the forests where native peoples lived before Columbus, the book follows slavery as Africans are captured and forced to work on plantations owned by wealthy white men. Although many landowners lost their way of life after the Civil War, the anonymous power figures did not die, and continue to crush black, brown and white workers and families who are expendable. Finally, as we confront the reality of climate change, even the Earth itself is expendable.

In the past four years America has further revealed its dark side. Blatant racism against black, brown and Asian citizens has become almost normal. However most of the perpetrators of these acts fail to realize that they are just pawns of the real power figures who care nothing for them and will throw them away when they are no longer needed.

The American myth has always been a dream of paradise, but the middle class lifestyle, mainly for white people, existed only from after World War II until the mid 70's when everything began to change for the worse. If America, or for that matter the rest of the world, ever wants to find "paradise" again, we must realize that resources will have to be shared and all people will have to be respected. Otherwise, our lives will be enmeshed in constant conflict that will benefit no one except the anonymous power figures.

Original drawing - scroll to the right to see the entire drawing.