CATALOG NO. B71 2015
Collaborative Artist Books with the Delaware Valley Chapter of the Guild Of Book Workers - Hygeia and Scientific American Project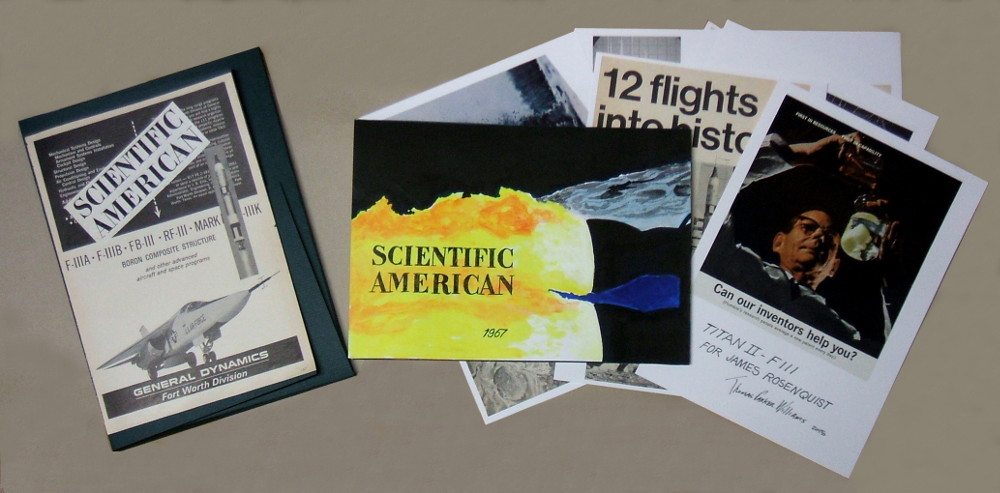 Specifications
Accordion fold painting, 7 panels, 8.25" x 11.625" opens to 8.25" x 82"
Case with source materials from copies of Scientific American (1967)
DVC Members participating - Alicia Bailey, Kristin Balmer, Ruth Scott Blackson, Amanda Bock, Beth Curren, Sharon Hildebrand, Becky Koch, Val Kremser, Jacqueline Manni, Leslie Mitchell, Frances Osugi, Mary Phelan, Rosae Reeder, Jennifer Rosner, Lisa Scarpello, Adrienne Stalek, Thomas Parker Williams
In the Spring of 2015 the Delaware Valley Chapter of the Guild of Book Workers was given a number of bound, deaccessioned magazines (Hygeia from 1920's to 1949 and Scientific American from 1950 to 1979) by the Scott Memorial Library at Thomas Jefferson University to use in whatever way we chose to make book art.
The guidelines for the Hygeia and Scientific American Project were that we could do anything we wanted with our books: cut it up and take pages out and make another book, make copies of the pages and use them, keep the book intact and alter it, rebind it, read an article and make something inspired by it (we will exhibit the article next to the piece) or make something that is not a book, but either sculptural or two dimensional.
I chose a Scientific American volume from 1967 to make an accordion fold painting as a tribute to James Rosenquist's iconic work F-111 (1964). The advertising and article images from the volume inspired me to integrate them with a background image of a Titan II vehicle as Rosenquist did with the F-111. The work was done with watercolor, acrylic inks, colored pencil and marker on paper. The case for the work contains the source images from the magazines.
The works from this project will be on exhibit from October 1 to December 18, 2015 at the Scott Memorial Library, Thomas Jefferson University, Philadelphia, PA